Services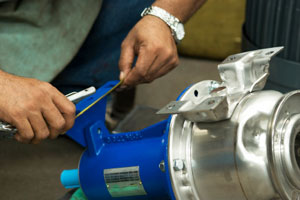 Engineering
BPH has over 50 years of experience in the pump industry. We understand that our equipment must work in the context of all your processes. Knowing that, we specify, design, and install the equipment that will work for your particular requirements.
Full Service Repair
Pumping equipment requires maintenance. It's not a question of if, but when. BPH meets your repair needs in our corporate shop facility or through our on-site repair service. Whether or not we handle a line directly, we're ready to repair or replace your pumps.
Systems Fabrication
If your new application requires a drive, a controller, or valving, BPH is ready to assist you. Our shop builds the equipment you need, the way you need it. Learn More
Troubleshooting and Application Assistance
How many times have you not gotten the equipment performance you need and no one has a good idea why? Next time that's the case, call us.
We'll talk it over with you. We'll ask the right questions. We'll empower you to be a more effective troubleshooter yourself.
Next time you're vexed and think that pump technology is somehow difficult to understand or fix, think of us. Because solving a pump problem is as easy as calling us at 888-289-8787.
Let us tackle your toughest pump challenge and we think you'll agree with our customers. BPH Pump & Equipment are the pump specialists.
Trial Program
We stand by what we sell. In many cases, we know we offer a superior product than what you might be using now. But you may be reluctant to change. After all, sometimes a known evil is better than an unknown one.
We understand.
That's why we offer a trial program on just about everything we sell. Your part is simple: Work with us so we fully understand your requirements. We'll put a formal, written proposal together. If you like what you see, we ship you the equipment. If the equipment does what we say it will do, we'll send you an invoice after a mutually agreed upon trial period. If it doesn't work, we'd like a fair chance at making it right. If it still is a problem, we take back the equipment. End of story.
We know what we're doing -- but you may not know that. Our trial program is our way of taking some risk out of your cost equation.